Oh, what a rash! Why is my skin suddenly so picky and irritated by everything? As a dermatologist, I have a lot of experience treating this dermatitis, even with online skin care advice. I wrote an article about perioral dermatitis a while back that you should definitely read first. If you're interested in follow-up skin care and want to learn lots of other interesting tips, read on! 🙂
When treating perioral dermatitis, the key is to avoid stressing the skin with a long, multi-step routine. First, we focus on restoring the skin barrier.
Skincare principles
Less is more
This applies to sensitive skin as well as many other skin conditions. A complicated routine is nothing for a perioral rash, whether it is flare-up or calm. Pay attention to your skin and keep track of which steps and types of products make it feel uncomfortable. If you get red or feel like your skin is burning after something in your routine, it's a sign that it's not good for you.
Simona_derm tip: Zero therapy doesn't necessarily mean skipping skincare altogether. Limit your routine to the most essential products that you can't live without.
Clean, but gently
Gentle, non-foaming gels and balms will be your best friends. Forget all the gadgets to cleanse your skin – they'll only irritate it unnecessarily. After cleansing, gently pat your skin dry with a towel or cotton swab. Your skin should not be irritated, red, or tight. Some people are comfortable with just rinsing with plain water in the morning, or even a routine without rinsing their face first.
Simona_derm's tip: If you can't imagine a morning without water, but don't feel like it's doing you any good, try rinsing your face with filtered or boiled cold water. Thermal water, bottled water, or Jarisch's solution from the pharmacy can also be used for morning cleansing. Among skin-cleansing gels, the gentlest are Geek and Gorgeous's Jelly Joker, Physiogel, CeraVe's Foaming Oil Cleanser, and La Roche Posay's Toleriane Cleansing Cream.
Try compresses
They are cheap, take only a few minutes a day to relax, and they work wonders! The one that has worked best for my clients is made from black tea (unflavored and unscented). Brew the tea briefly (2 minutes is enough) and let it cool. Apply soaked gauze or cotton swabs to the dermatitis areas for 10-15 minutes. Do this at least once and no more than 3 times a day. You can also try Jarisch's solution and boric water with the compresses.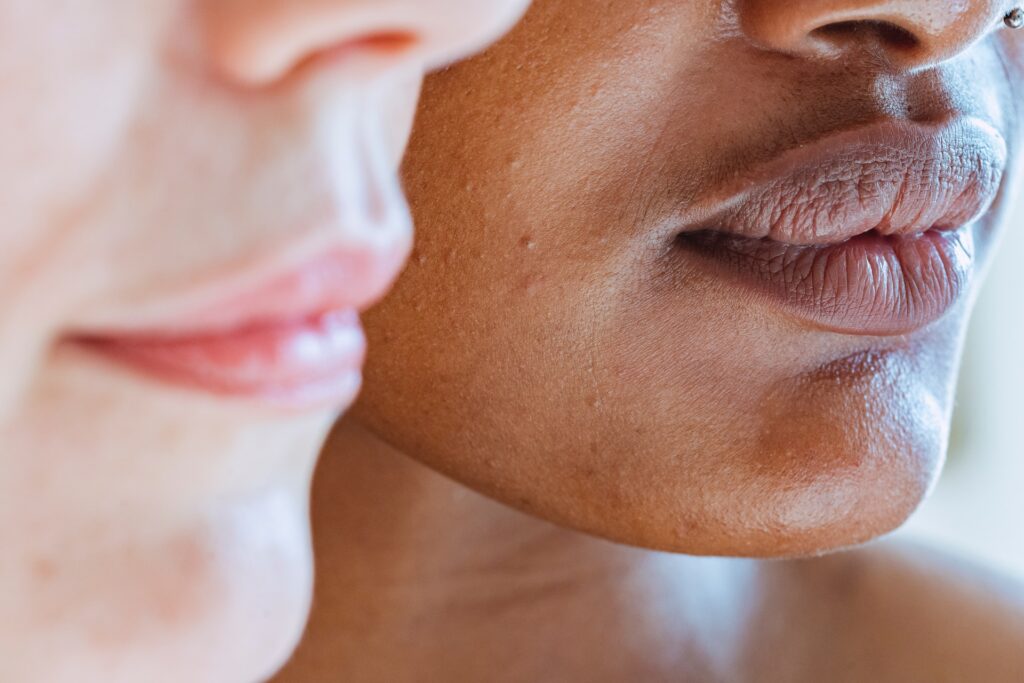 Take a pause from serums
For areas where you had the rash before, skip the serums altogether. They often cause the top layer of skin to "swell up," and that's why you can't get rid of the rash. Some people find that serums containing niacinamide or neurosensine (Dermallergo by La Roche Posay) help.
Take a pause from actives
Acids, vitamin C, retinoids and other actives in the case of worsened perioral dermatitis should be put aside. If you don't want to give them up altogether because you need them for other parts of your face, apply them to the forehead and cheeks – at least 1 cm away from the signs of dermatitis. Even after the dermatitis has healed, be careful, the area around the eyes and mouth is very prone to flare-ups.
Let the cream be simple
Cica, toleriane, barrier – just simple and perfume-free cream is enough. Let's start the recovery of your skin barrier. Different skin types (and types of dermatitis) suit different levels of oiliness. Your top favourites are Cicaplast baume B5 by La roche posay, Cicalfate by Avène, Cica intensive renewal cream by Topicrem and the Czech patent REHA special barrier cream by 2derm. Alternatives are Perioderm emulsion from Syncare and the "ozone cream" from Olozol.
Try paste
Of course, not the one you use for brushing teeth, but the one containing zinc or ichthyol. It works wonders on some (especially live and pimple) rash. Apply it in the evening after the cream, in a thin layer on the affected areas, it washes off better in the morning. My favorites include Vitella ictamo and Zitenax (or plain zinc) paste. Neophytiol or Sudocrem are favorites of some of you.
Try physical sunscreen
With mineral sunscreens, there is a slightly lower risk of skin irritation. Apply UV protection whenever you go outdoors. At home, let your skin rest. A wonderful mineral SPF is made by NeoStrata – sheer physical protection. Other favourites include Heliocare mineral fluid and sun mineral from Avène.
You don't have to stop with makeup
Prefer lighter, gentler makeup and BB or CC creams over heavy makeup. Covering a rash heals the soul. ❤️ For many years, we've recommended Aknecolor (recent AC color), but its availability changes frequently. A very nice alternative from the drugstore is Toleriane makeup from La roche posay. Don't forget to gently remove makeup from your skin in the evening.
Each of us is unique, and so is our skin. If you struggle with acne, various dermatitis, oily, dry or sensitive skin, want to effectively improve or kickstart your routine, or are at a complete loss when it comes to navigating the world of cosmetics and choosing the right products, the Skincare by simona_derm package is the one for you.